My new accuquilt die arrived, and I just had to try it out for fun. I bought it for the Bonnie Hunter Leader /ender challenge and hourglass blocks. If I do the colors the way she has planned, I needed 8 blocks of orange.
If I remember to keep the dark triangle on top as I feed it through the machine, they will all nest perfectly together. I'm still trying to finish my tumbler quilt rows.
It looks like the die and my piecing are 3 1/2 inch unfinished and will finish at 3 inches.
My foxes are all cut and laid out, and ready to spring to life.
I'm linking with needle and thread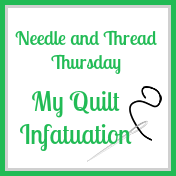 and
Oh scrap